Home > W Series > Chadwick dominates W Series debut weekend in Germany
Chadwick dominates W Series debut weekend in Germany
Wesley Branton | May 4, 2019 @ 8:55 pm
---
Yup, ads are super annoying. Trust me, I get it. This isn't one of the websites that's going to force you to whitelist this website or hide content behind expensive paywalls. Sites like those are ruining the free internet.
However, please remember that I have bills to pay to keep this website alive and running. I enjoy doing this and spend a lot of time working on this website. The easiest thing you can do to show your support is to whitelist RacingClothesline.com in your ad blocker's settings.
Still don't want to? Then consider donating to show your support.
Jamie Chadwick made history this Saturday after dominating the W Series' opening weekend in Germany. The race, which you can watch on Facebook, was filled with plenty of drama and battles throughout the field.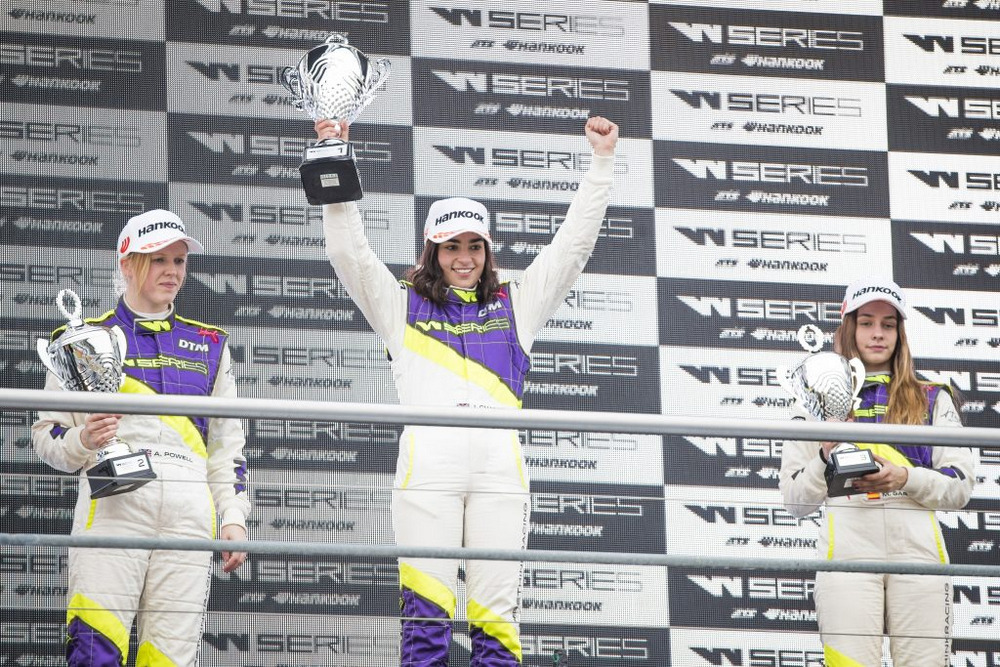 Sabre Cook struggled to get off of the grid when the race started, sitting stationary in his grid slot while those around her started their race. Emma Kimilainen also struggled to pull away from the grid, losing many spots at the start of the race.
Chadwick had a solid start to maintain her race lead but lost the lead of the race to Sarah Moore after locking up in the hairpin and running wide. There was further drama at the hairpin when Megan Gilkes slammed into the side of Kimilainen's car. Gilkes was on the wet inside line under braking and couldn't get the car stopped. The safety car was deployed while the trackside crew worked to clean the accident.
When the race resumed, nearly 10 minutes had already passed. Chadwick was eager to get back into the lead, regaining the position despite locking up again. Alice Powell made it into P2 after a battle between Sarah Moore and Marta Garcia.
Moore eventually ended up running wide, allowing the two to overtake her. While Powell began to put pressure on the race leader, Beitske Visser began to attack Garcia for the bottom step of the podium. At the halfway point of the race, Garcia found a lot of pace and closed the gap to the cars ahead.
In the closing minutes of the race, Vicky Piria dropped to the rear of the field after a spin at the hairpin in which she collected a marker board. As the race came to a close, Chadwick increased her lead of the race. Garcia was right on the gearbox of Powell but wasn't able to make a move for the second step of the podium.
Looking further back, Miki Koyama had a strong opening race, gaining 10 positions after starting from the back row of the grid and making herself the biggest mover of the race.
Next, the W Series will be joining DTM at the Circuit Zolder in Belgium for the second race of the six-race calendar.

1 – J. Chadwick
2 – A. Powell
3 – M. Garcia
4 – B. Visser
5 – S. Moore
6 – F. Wohlwend
7 – M. Koyama
8 – T. Pepper
9 – G. Rdest
10 – C. Wood
11 – J. Hawkins
12 – E. Hawkey
13 – S. Cook
14 – N. Schiff
15 – V. Piria
16 – S. Holbrook
RET – E. Kimilainen
RET – M. Gilkes
Above results table does not include any post-race penalties
---
Like this article? Share it with your friends: