Home > Formula 1 > Racing legend Niki Lauda passes away aged 70
Racing legend Niki Lauda passes away aged 70
Wesley Branton | May 20, 2019 @ 10:20 pm
---
Yup, ads are super annoying. Trust me, I get it. This isn't one of the websites that's going to force you to whitelist this website or hide content behind expensive paywalls. Sites like those are ruining the free internet.
However, please remember that I have bills to pay to keep this website alive and running. I enjoy doing this and spend a lot of time working on this website. The easiest thing you can do to show your support is to whitelist RacingClothesline.com in your ad blocker's settings.
Still don't want to? Then consider donating to show your support.
It's with great sadness that the motorsport community mourns the loss of Formula One legend Niki Lauda. He was a prominent figure in the paddock, serving as the Mercedes F1 Team's non-executive chairman for nearly a decade. He was just 70 years old.
Lauda began his Formula One career with Ferrari in 1974, starting one of the sport's greatest rivalries with James Hunt. The championship battle was the subject of 2013 film called Rush.
Most notable was his fiery accident at the 1976 German Grand Prix and astonishing recovery thereafter. Despite Lauda's attempts to launch a boycott against the Nürburgring on safety grounds, the race went on as planned. On the second lap, the Austrian driver swerved off the circuit and caught fire. He was trapped in the stricken car until drivers Arturo Merzario, Brett Lunger, Guy Edwards and Harald Erti were able to free him.
He missed just two races, making a miraculous return to racing after just six weeks. He had suffered severe burns to his head and lungs. He ended up losing the World Driver's Championship title to his rival Hunt by just a single point because he withdrew from a rainy season finale in Japan.
He continued his career with Ferrari, picking up a second championship title (having won in 1975 also), before transitioning to the Brabham team. After two unsuccessful years with the team, he retired from Formula One.
His retirement was short-lived, as he returned to Formula One with McLaren in 1982. He went on to win his third and final championship title with the team in 1984 before hanging up his racing helmet for good the following season.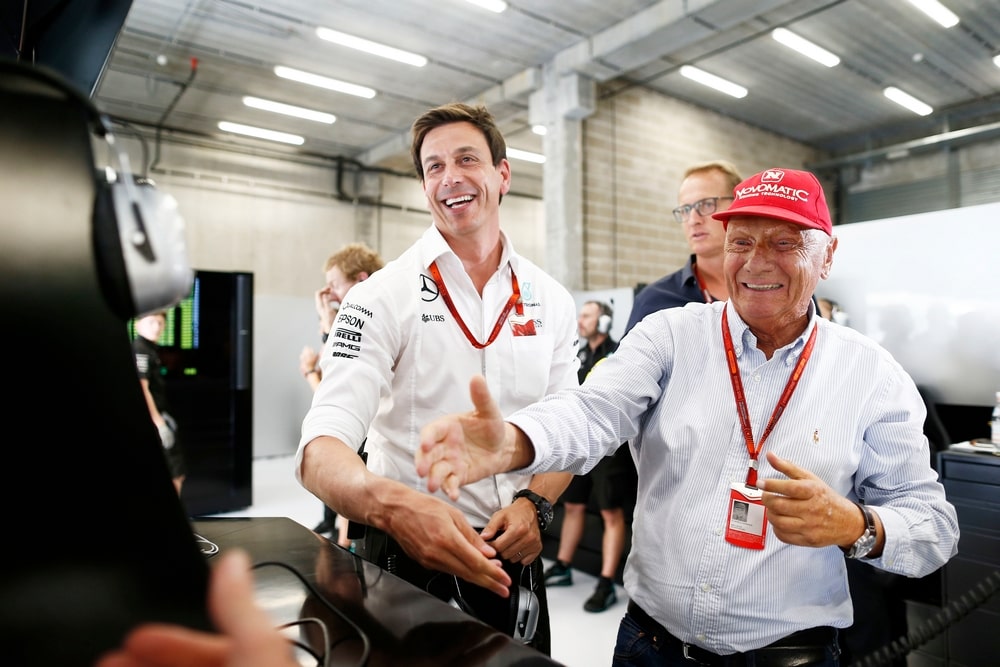 In the early '90s, Lauda returned to Formula One on a management capacity. He accepted a consultation role at Ferrari in 1993, leaving midway through the 2001 season to take the role of team principal at Jaguar's F1 venture. After little success, Jaguar fired Lauda and many other management figures after the following season.
He returned to the paddock with Mercedes in 2012, having been appointed a non-executive chairman of Mercedes' F1 venture. He was a popular face in the Mercedes garage, often seen alongside Toto Wolff.
Outside of Formula One, Lauda also had a passion for aviation, holding a commercial pilot license. He created multiple successful airlines. The first was Lauda Air in 1985, which was purchased by Austrian Airlines at the end of 2000, starting the long merger process. The brand was officially defunct in the spring of 2013.
Next, he created Niki in 2003. This was sold and merged with Air Berlin in 2011. In 2016, he acquired Amira Air, renaming it LaudaMotion. He reclaimed the Niki airline when Air Berlin went belly-up in 2017.
Lauda has been absent from the Formula One paddock for some time due to deteriorating health. He has undergone multiple kidney transplants since 1997 and lung transplant in the summer of last year.
Lauda passed away peacefully on May 20, leaving behind five children Mathias, Lukas, Christoph, Max and Mia, his wife Birgit of 11 years and a legacy that will never be forgotten.

---
Like this article? Share it with your friends: